Additives & System components
Ultraflex liquid membrane
Ultraflex is high performance liquid waterproofing membrane that used in conjunction with ultraflex matting, forms a continuous, elastic and high resistant to elements, traffic.
It can be used on new build or re-roofing, as it can be applied easily to a variety of substrates.
Ultraflex is an ideal solution for waterproofing of roofs, balconies, walkways, water channels or swimming pools, specially where complicated detail areas are required.
Ultraflex can be used straight out of the tin without catalysators, so no mixing mistakes or wastage on site.
Ultraflex does not require primer in the majority of substrates and it is BBA and ETE certified for a lifespan in excess of 25 years.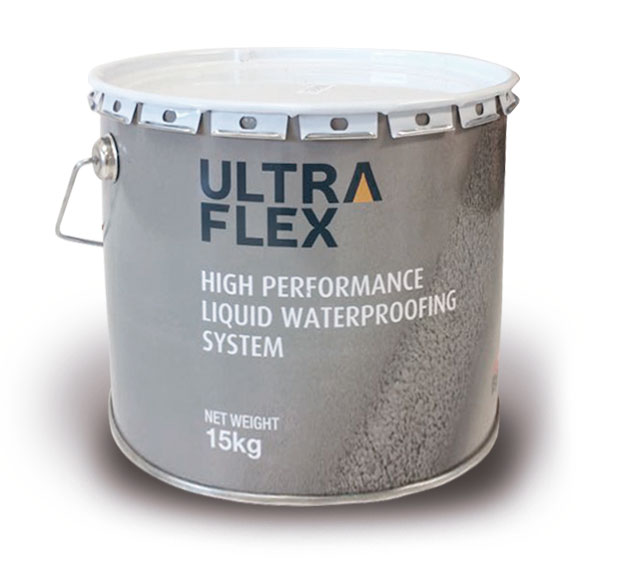 PROPERTIES
VALUES
METHOD
Specific gravity (kg/m³)
1.320 ~ 1.420
DIN 53 217
Viscosity at 23ºC
2.650 cps
ASTM D2196-86
Dry extract
>90
EN 1768
Flash Point (ºC)
42ºC
ASTM D93
Ashes at 450ºC % weight
42 ~ 47%
EN 1879
Temperature
2ºC and rising and not exceeding 30ºC
Hardness Shore A at 23º
C > 75
Tensile strength
Reinforced with Ultraflex matting >10MPa *
Dry time
2-8 hours. Fully traficable 24 hours
Overcoat time
±5 ~ ±48 hours
Elongation
>400%
Water vapour resistance
µ=2.500
Concrete adherence
>2 MPa
*UN-REINFORCED Tensile strenght >3MPa